Practical Animism and Skills for Relationship

Our world is abundant with life other than just humans. Yet many of us were never taught how to develop direct and nourishing relationships with these wise and complex elders. Plants and animals; spirits of the land; stars and celestial bodies. What does it mean to practice loving and being loved by the Earth?
Loving the Earth is a unique offering that combines an in-depth, self-paced course – Practical Animism – with a six-week series of interactive live teaching calls with Daniel for guided integration and building relational skills.
In this course, you'll explore teachings and practices that begin to fill in the cultural gaps for receiving healing from the Earth, living with a deeper kinship and intimacy among the many beings in your daily life. Beginners are warmly welcome.
Animism is the practice of loving and respecting our greater family; mountains and rivers, plants and animals, planets and stars.
About our self-select pricing model:
Supporter rate invites folks with comfortable financial means to contribute more. Your generosity covers the cost for us to offer reduced rates.​
Standard rate is the actual cost for us to offer this program and sustain what we do. If you are able to enroll at this rate, we encourage you to do so.​
Community rate invites folks with leaner financial means to enjoy Ancestral Medicine programs at a reduced cost. *Limited availability.​
Scholarships are for people experiencing sustained hardship or from economically under-resourced communities. *Limited availability.​
All levels include monthly payment options, as well!
If you're not satisfied with the course after having engaged at least one lesson, we will grant you a full refund within 30 days of the beginning of the course.
"This class helped solidify that I am part of the All and everything is connected. I am an Indigenous Person of North America and My Ancestors taught Me that We are all Connected from the Smallest to the Greatest. I definitely will take more Classes with Ancestral Medicine."
"This course is an amazing way of being in relationship with the other-than-humans. The structure, resources, and pace at which the different topics are uncovered, helps one in stepping slowly but surely into the different flavors of animism. I feel more connected to my Plant Kingdom friends. Through this course, I have re-acquainted with deities who I had put aside as too linked to a specific religion. The different rituals and practices through the course helped in renewing this relationship in a more authentic way."
"Incredibly timely and important work shared in this course. This course had a very accessible presentation which was deeply meaningful on many levels. Daniel's "realness" as a teacher comes through and helps me to feel encouraged and included. As a lifelong student who has studied many approaches, this material speaks to me in a way that none else has done. I'm so grateful!"
"It was wonderful to have the lectures and the live talks where people asked questions and shared concerns and difficulties. Daniel really gets this stuff. The course was super respectful of participants including oppression and cultural issues of all kinds. It was great at being non-dogmatic and non-purist, while impeccably exhorting us to go deeper into relationships and find our roles in a living world with lots of troubles and complexity."
Relational Skills You Will Learn
Each of these weekly themes focuses on honing our skills for developing meaningful relationships and connections in both human and other-than-human contexts.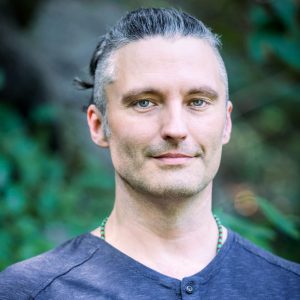 Dr. Foor is a licensed psychotherapist, doctor of psychology, and the author of Ancestral Medicine: Rituals for Personal and Family Healing. He is an initiate in the Òrìṣà tradition of Yoruba-speaking West Africa and has learned from teachers of Mahayana Buddhism, Islamic Sufism, and the older ways of his English and German ancestors. Daniel is passionate about training aspiring leaders and change makers in the intersections of cultural healing, animist ethics, and applied ritual arts. He currently lives with his wife and two daughters near Granada, Spain in the foothills of the Sierra Nevada Mountains.
Frequently Asked Questions