Ancestral Lineage Healing Intensive
A Four-Day Residential Gathering
Vendôme, France
with Dr. Daniel Foor and Ancestral Healing Practitioners
Ancestral lineage healing emphasizes learning to relate directly with one's recent and more ancient blood ancestors for personal, family, and cultural healing. In this four-day intensive, attendees can expect to learn both a life-long framework and tangible skills for connecting directly with their own wise and kind ancestors.
Coming into relationship with your ancestors can help to transform intergenerational troubles, re-establish obscured blessings, improve relationships with the living, and encourage clarity of purpose.
The structure for our four-day intensive is one that is psychologically grounded, ritually safe, and culturally inclusive, led by Dr. Foor and a team of trained ritual supporters. Those new to ancestor work, as well as adoptees, and folks with a tough experience of family and culture, are all warmly welcome. This is a residential event that includes healthy meals and accommodations.
You can turn on the English or French subtitles by clicking the CC icon next to the sound icon.
With all the blessings and challenges included, we are the face of our people on Earth.
In this intensive, you will
This is a residential intensive which means that meals and accommodations are included in the cost of participation. A limited number of single rooms and a larger number of shared rooms (with two separate beds) are available. The accommodation options below list the total price for three nights' stay. Click here for more on the event location.
Single
$310 single room and meals
Shared
$245 shared room and meals
A limited number of spaces in shared rooms are available at reduced pricing. These spaces are reserved for people who experience some form of systemic oppression and marginalization in ways that also impact financial means (e.g., travelers or recent immigrants from less economically developed countries; participants from historically persecuted groups in France). Native French speakers who do not meet this criteria but nonetheless need cost reduction to join are also welcome to request a reduced cost space. You can apply for one of these spaces here: Application for Assisted Registration.
A minimum of 50% of the full registration cost is due at the time of registration; 25% of this is a non-refundable deposit. The remaining registration payment may be refunded as follows:
A 75% refund is available for cancellations made anytime before May 22, which is 90 days before the intensive begins.
A 50% refund is available for cancellations made between 30 and 90 days before the intensive begins.
There are no refunds available for cancellations made after July 21, less than 30 days before the intensive begins.
We reserve the option to extend some flexibility on this policy, especially in cases where an open space has been quickly filled. However, in-person intensives require significant organizational resources and these policies help to ensure these offerings remain sustainable.
"Grateful to Daniel Foor, his team of supporters and the ancestors for bringing through this deeply needed work with such integrity and authenticity. This is a much-needed and overlooked resource for the crisis and obstacles we are currently facing as a global community. Its potential ripple effects are many and far-reaching. Thank you also for modeling cultural competency and respect along with effective communication, it was deeply inspiring."
"I felt held with kindness and generosity along with clarity and forthrightness. There was an atmosphere of deep ritual safety and spacious learning. What I touched and discovered at the intensive was genuinely life-changing. So much gratitude and respect for the humility, knowing and loving presence of the teachers."
"A spirited and generous way of accessing and implementing cultural repair. Gratitude for further flow of love into acknowledging and repairing Other-than-human relationships, specifically for me personally with the Land. Gratitude for Daniel's finely tuned capacity to hold so much in his attention and intention. Finally gratitude for the presence of Daniel. Words can't express the salve of being in the presence of a person with integrity and humility."
"I felt Daniel and the supporters worked well in providing a safe space to work deeply with this important material, there was humour and lightness of touch that made it easy to ask questions and for help / support as needed. I like that Daniel names the prejudices in our society and is so willing to work in a way that does not inflict further harm or damage to people who have lived and live with the limitations, hate, shame, risk of harm and so much more that comes from being identified as 'other' in our world."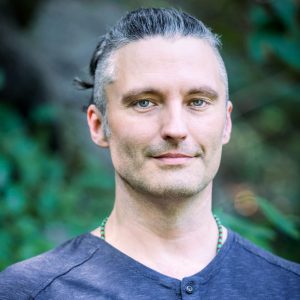 Dr. Foor is a licensed psychotherapist, doctor of psychology, and the author of Ancestral Medicine: Rituals for Personal and Family Healing. He is an initiate in the Òrìṣà tradition of Yoruba-speaking West Africa and has learned from teachers of Mahayana Buddhism, Islamic Sufism, and the older ways of his English and German ancestors. Daniel is passionate about training aspiring leaders and change makers in the intersections of cultural healing, animist ethics, and applied ritual arts. He currently lives with his wife and two daughters near Granada, Spain in the foothills of the Sierra Nevada Mountains.
Frequently Asked Questions