Who are the ancestors? In the broadest sense they're all the beings (human and otherwise) who lived on Earth before us, the life of the past that nourishes and shapes the present. More specifically, our ancestors are the human dead, the collective wisdom (and suffering) of homo sapiens sapiens over the past 200,000 or so years. Even more narrowly, our ancestors are the souls or spirits of those among the human dead who are relatively well in spirit (in contrast to ghosts or the troubled dead). The ancestors are not limited to our blood and family lineages; however, in my experience biological ancestors tend to be influential and important to engage for personal and family healing.
Why Contact Your Ancestors? Especially if family has been a source of pain or trauma, it's fair to ask what's in it for us. When we assist the spirits of deceased  who are still in need, this helps them and also helps the living to transform intergenerational burdens into ancestral blessings. We can get free from painful old stories and patterns that no longer serve and find more peace and rootedness in our bodies, our families, and our cultures of origin. Ancestral repair work also encourages peace-making, when possible, with living family and can benefit relatives impacted by the dead who are not at peace. The loving ancestors can also help shoulder some of the burden for those in a position of caring for living family members.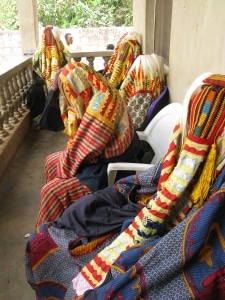 Our wise and loving ancestors can offer potent support for understanding and fulfilling life purpose or destiny while here on Earth. Tending the health of our ancestral lines also helps clear the way for our eventual transition to the next reality. Ancestor work is relevant for folks who wish to serve as holistic healers or spiritual guides as the both ancestors and the dead who are not yet well have a strong impact on personal and spiritual wellness. Finally, our wise and loving ancestors can bring about more successful outcomes in our work for social and earth justice as many of these societal toxins are a function of unmetabolized ancestral pain and exacerbated by interference from the troubled dead. For more on my approach, see my blog, the 2011 Voices of the Earth interview, and the 2017 recording Intro to Ancestral and Family Healing.
Ancestral Lineage Healing. Learn to work in partnership with blood ancestral guides for personal and family healing. For full description and training dates see link.
Individual Sessions.  A lot of the ancestor work I guide happens during personal sessions by phone, Skype, or in-person in Asheville or when traveling to teach. See personal sessions and for more info.
Ancestral Healing Practitioner Training. Learn to guide ancestral healing and lineage repair work for others. The next training will be offered 2017-18 (link here for details).
Ancestors of Place. I occasionally guide rituals to honor the ancestors of place (rather than blood). The Mongolian peace tree ceremony is one example. See the animism page for more on ancestors of place.
Exciting news! My book, Ancestral Medicine: Rituals for Personal and Family Healing will be available July 2017 through Inner Traditions! Thanks all for your prayers and support!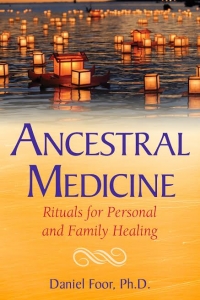 "Daniel is the teacher I've been looking for for a long time. I've been so moved by his ability and willingness to walk alongside all kinds of processes in healing and getting to know our beloved dead. My journey so far with ancestral work has included the whole spectrum of perceptions and feelings–he has been steady through all these. From participating in Daniel's ancestral intensives I can now say with sureness that I come from bright and powerful people, and that they support me, my life and my work. I no longer feel afraid or ashamed of where I come from, because I have felt the health and gifts that come from beyond the recent history of my family." –Irene, Bodyworker & Craniosacral Therapist
"I've done Daniel's ancestor training four times, once for each of my grandparents. Each lineage was different, unexpected and amazing. I received information that opened pathways to personal and family healing and my ancient ancestors have become powerful allies, helping heal other family lineages when people in my extended family have crossed over. The skills I learned from Daniel have also helped clients in my clinical psychology practice reclaim valuable sources of support. Now I don't just relate easily to dead people, I also know how to engage them in compassionate and healing ways." –Linéa, Child & Family Psychologist
"I trust Daniel.  He makes me laugh, he makes my ancestors laugh and working with him often feels like a party.  He is wise and non-judgmental.  As a result, I have a really kick-ass relationship with at least 1/2 of my ancestors at present.  The other half were abusive, abused and unwell in all senses of the word.  And despite this, with Daniel's assistance I've made a solid connection with more distant, healthy, happy, wise and loving ancestors who are guiding the process of re-membering and healing the unwell along the lineage.  Daniel deftly guides me through the land mines as we partner together on this amazing journey." -Sue, Accountant